Floor-even showers Pure showering pleasure
Floor-even showers are in vogue as they enable barrier-free access to the shower area. In all our shower versions, there is a focus on attractive design, simple cleaning and hydraulically optimised drain technology. Whether with a separate shower surface in antislip materials, in different sizes and colours or with tiled shower areas in a uniform room design, we offer the right solution for all requirements and spaces – and all with innovative, perfectly coordinated design and technology.
Ensuring enjoyment in the shower
The integrated niche storage box is a particularly sophisticated solution for ensuring a tidy shower area. It is used to store care products and keep them within easy reach. Splash water and dirt residues drain off to the front, thus minimising the amount of cleaning required. The shelf surface can also be concealed with an optional sliding mirror door.
Regardless of which solution you choose – Geberit offers timeless design combined with outstanding functionality.
Geberit shower channels of the CleanLine series
Geberit shower channels of the CleanLine series not only look good but are also easy to clean. Unlike many other conventional shower channels, the open outlet surface ensures that neither dirt nor bacteria is able to accumulate.
Simply clean
Open outlet surface: no hidden deposits
Handy cover: easy and convenient to open
Practical comb insert: remove – flush out – and everything's clean again
Optimum length: the shower channel can be cut to the desired length directly at the time of installation
Easy installation: complete installation kit for effortless installation and sealing by the plumber
Geberit shower channel CleanLine20 and CleanLine60 available in stainless steel brushed with polished or dark drain sides
Geberit shower channel CleanLine80 available in stainless steel with champagne, black chrome and stainless steel surface variants
Geberit CleanLine80 with champagne surface variant.
Geberit shower drain from the CleanLine series – comb insert which can be rinsed
Dimensions of the Geberit shower channel CleanLine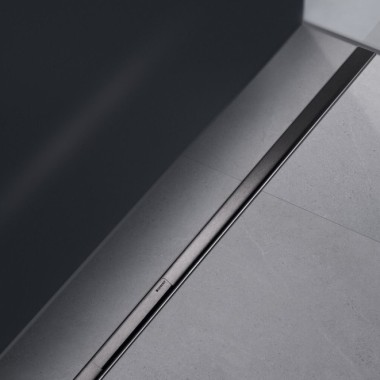 Geberit CleanLine50 slim & functional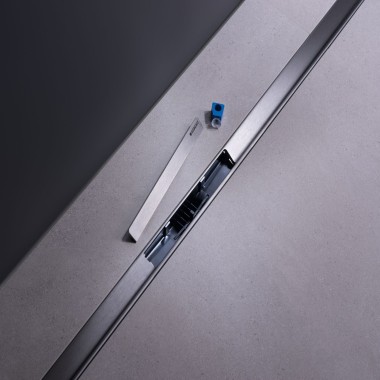 Geberit shower drain black chrome with open cover
Geberit CleanLine50 - Stainless Steel brushed
Interactively discover the advantages of the Geberit shower channel
Please select an info point in the picture
Geberit wall drain for showers
Elegant behind the wall
The Geberit wall drain for showers clears the way for a barrier-free bathroom with a consistent design. By moving the drain from the floor to behind the wall, you can preserve the flawless tiled appearance of the floor-even shower and you will no longer have to step on the drain.
Tested concealed technology
Geberit wall drain for showers
Dimensions of the Geberit wall drain for shower
Geberit floor drain for showers
Compact and effective
The dimensions of the Geberit shower floor drain are only 80 x 80 mm and it is therefore more compact than many conventional floor drains. However, this does not affect its attractive appearance or its discharge rate.
Round design cover
Square design cover
Dimensions of the Geberit shower floor drain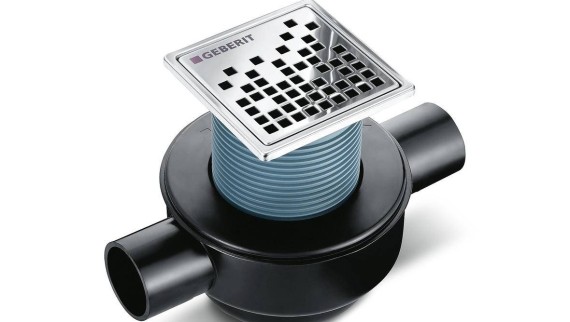 Combat bathroom odours
The Geberit floor drain Aquorea is odour-free thanks to a more efficient water seal that delays evaporation. The Aquorea also offers easy maintenance, installation and a big flow rate.
All technical information about floor-even showers can be found in the Online Catalog
Create your dream bathroom Find a showroom
Find your nearest bathroom showroom to get personal advice and a real-life impression of our products.
Design award for Geberit shower channels of the CleanLine series and Geberit wall drain for showers