Geberit ONE When design and function become one
Functional design for a better quality of life
Geberit ONE offers a wide range of options for designing bathrooms that impress both aesthetically and functionally. Washbasins, bathroom furniture and mirror cabinets in various designs are perfectly coordinated with one another and can be combined to suit your individual requirements.
More cleanliness, space and flexibility across the whole bathroom
Please choose an information button in the image
Geberit ONE washbasin area
The Geberit ONE bathroom series combines sanitary technology expertise with versatile design skills to offer a pioneering and comprehensive solution for your individually designed washplace and the entire bathroom. Geberit ONE shines with a whole host of both obvious and hidden advantages, all cleverly combined within the system. These make for more cleanliness, more space and more flexibility in the bathroom.
Geberit ONE products are available in two versions: space-saving with a slim washbasin with a 40 cm projection and in the classic 48 cm projection.
Test the Geberit Washplace Configurator
Design freedom at its best. Discover the diverse combination options for your own, individual washbasin area. Match the washbasin ceramic appliance, bathroom furniture and mirror cabinet to suit your taste and space perfectly in just five steps.
Geberit ONE washbasin variety With innovative drain
The Geberit ONE washbasins with horizontal drain combine the highest standards of design with exceptional functionality.
The horizontal washbasin drain is adapted to the design of the washbasins and cleverly placed at the rear edge of the basin. Its innovative technology creates more space in the drawers of the washbasin cabinet. By moving it to the rear, it is not exposed to the water jet, which prevents splashback from the drain. Significantly less water and limescale residues form and the level of cleaning effort is reduced. A magnetic bracket keeps the cover in the perfect position. It can be removed in a single motion to clean the comb insert attached to it.
Geberit ONE vanity basin with lateral shelf surface
Geberit ONE lay-on washbasin in a rounded design
Geberit ONE washbasin with asymmetrical lateral shelf surface
Geberit ONE classic double washbasin
Horizontal drain cover with comb insert
Washbasin figure with 48 cm projection and horizontal drain
Washbasin variety With classic drain
Geberit ONE washbasins with a classic drain take tried-and-tested concepts to a whole new level.
Geberit offers three different variants of the ONE washbasins with vertical drain: as standard models and vanity basins in various widths, and as lay-on washbasins in either the square or rounded design variant. The drain features an elegant ceramic cover complete with integrated comb insert. All models are equipped with a space-saving drainage system, which does away with the need for a conventional trap cutout in the washbasin cabinet. This creates additional space in the upper cargo of the washbasin cabinet, for example.
Geberit vanity basin with generous shelf surface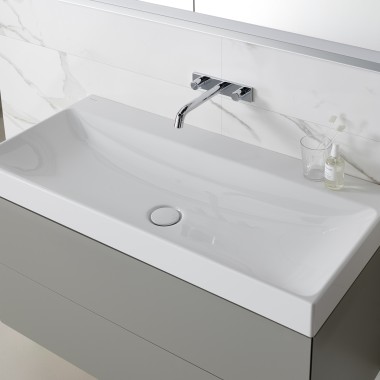 Classic washbasin from Geberit ONE
Large Geberit ONE standard washbasin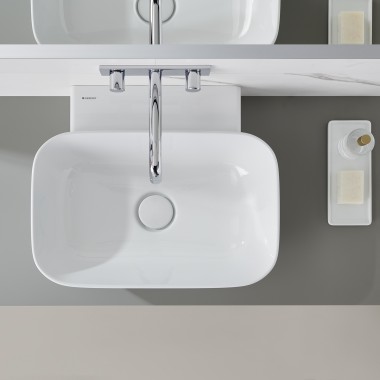 Geberit ONE lay-on washbasin in bowl shape design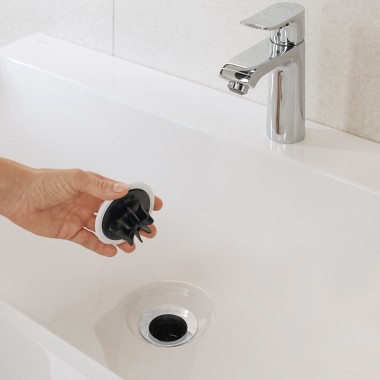 Vertical drain cover with comb insert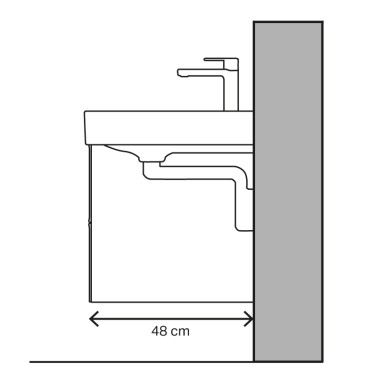 Washbasin figure for vertical drains
Solution with slim washbasin
The key to saving space. Technology behind the wall, design in front of the wall – this is how Geberit ONE washplace products with a 40 cm projection offer maximum functionality and elegance.
With a projection of just 40 cm, the Geberit ONE washbasin ceramic appliance takes up significantly less space than basins with a classic depth. This is where the washbasin drain makes for a real highlight. Its position behind the wall means neither the trap nor the outlet pipe are visible in the bathroom. What's more, the lack of the usual trap interruption in the washbasin cabinet creates further space still. The Geberit ONE washbasin ceramic appliance is available in two models – free-floating or with a washbasin cabinet – as well as in four different sizes.
Slim Geberit ONE washbasin with cabinet
Floating Geberit ONE washbasin
Washbasin figure with space-saving projection
Geberit ONE mirror cabinet with ComfortLight Intuitive lighting for every situation
Completely integrated into the wall
The new Geberit ONE mirror cabinet is available in five different sizes integrated into the wall or as a surface-mounted variant, in anodised aluminium or white, and fully mirrored or with an illuminated niche. But the highlight and truly unique innovation of the new Geberit ONE mirror cabinet has to be the integrated lighting concept. The ComfortLight is designed with different light sources to not only provide an authentic mirror image without shadows, but even illuminate the entire bathroom.
What's more, the continuously dimmable design of the automatic light control is both intuitive and very easy to operate: the light is automatically cooler when the light is brighter, and warmer when dimmer. The lighting concept is also characterised by four distinct lighting moods: an orientation light for night time, candlelight for relaxation, standard light for day-to-day use, and working light when you want to be sure you can see every last detail and hair.
Natural light that doesn't dazzle
What sets the new lighting concept from Geberit apart? The ComfortLight is designed to perfectly illuminate the mirror image, washbasin and room with four light sources integrated into the Geberit ONE mirror cabinet. These come in the form of an overhead light, or indirect room lighting, a mirror light, a niche light and a washbasin light. All light sources harmonise perfectly with one another depending on the chosen lighting mood.
Please choose an information button in the image
Geberit ONE WC Cleanliness and integrated flexibility
The wall-hung Geberit ONE WC is an elegant and perfectly proportioned appliance. It becomes obvious when you open the lid: an asymmetrical, completely rimless inner geometry ensures that the flush on the WC ceramic appliance is fantastic while being no louder than a whisper. Thanks to sophisticated installation technology, the height of the WC can be easily adjusted without needing to open the prewall, even years after the toilet was originally installed.
Thorough flush with TurboFlush
Lid and WC seat ring are easy to remove
Integrated capacity for adjusting the height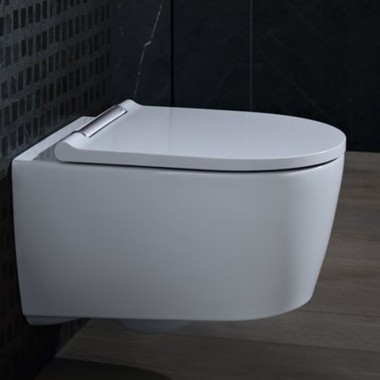 Cleanliness and integrated flexibility
Geberit ONE wall-mounted tap
Better hygiene and cleanliness
The elegant wall-mounted tap ensures the entire washbasin stays free, preventing dirt-collecting edges, which are a breeding ground for germs that like to accumulate around deck-mounted taps.
Moreover, the Geberit ONE wall-mounted tap is perfectly coordinated with the inner geometry of the Geberit ONE washbasins. With conventional solutions, the drain is directly exposed to the water jet, which sooner or later results in limescale residues. By contrast, the Geberit ONE design enables the water to completely flush out the gentle ceramic curves before it flows down the drain. The wall-mounted tap is available in either a square or round design.

Shower area
Geberit also ticks plenty of boxes when it comes to the shower area, with the floor-even shower being a particularly popular option. In this regard, we offer a wide selection of innovative solutions, all of which are perfectly tailored to the Geberit ONE concept. The integrated Geberit niche storage box not only saves space, it is also designed to prevent the build-up of water and dirt residues.

Space-saving drainage through the prewall
Niche storage box with optional mirrored sliding door
Tile-bearing niche storage box
Product characteristics
TurboFlush
Rimless ceramic pan with TurboFlush technology
4.5 l flush
Water-saving toilet flush.
SoftClosing
A practical, quiet soft-closing mechanism for the WC seat.
QuickRelease WC seat
Easily removable WC seats for more convenient cleaning.
Floor clearance
Wall-hung toilets ensure easy floor cleaning.
Moisture-resistant material
Bathroom furniture with moisture-resistant, high-compressed three-layer chipboard.
Compact dimensions
Various formats for different spaces.
Push-to-open mechanism
Handle-free drawers can be opened by pressing lightly on the front.
Drawers with soft closing
Drawers that finish closing silently and by themselves.
Hidden wall fixing
Wall-hung WC ceramic appliances are available in a closed version.
CO2 certified
All ceramic products in this series are certified by the Swiss foundation myclimate.
Create your dream bathroom Find a showroom
Find your nearest bathroom showroom to get personal advice and a real-life impression of our products.
Geberit product catalogue Additional details for your planning
Additional information on the Geberit ONE series, including product details and dimensions, can be found in the our product catalogue.